SKY JUMPERS POLE VAULT: "WOMAN v. WORKOUT," SKY JUMPERS POLE VAULT CONFIRMS DEADLY "TRADITIONAL" NEGLIGENCE!
You will see below, blatantly illustrated, WHY & HOW athletes have been senselessly injured and killed after being exposed to primitive negligent "TRADITIONAL" pole vault teachings thoroughly exhibited in this commercial "Woman v. Workout" video. Referring to the Sky Jumpers pole vault coach in the recording, Russ VerSteeg, skyjumpersct.org boasts that Coach VerSteeg has done multiple "safety presentations" for "UCS Spirit" in Reno, Nevada. If you look carefully at the shirt Coach VerSteeg is wearing, you will see "UCS Spirit" on the back and "National Pole Vault Summit 2010" on the front.
Coach VerSteeg, together with Sky Jumpers founder, Jan Johnson, also were "expert" witnesses who both testified as OPPOSITION against Brandon White in his successful 6.4 MILLION DOLLAR lawsuit that was the result of 18 year-old White attempting the lethal "traditional" pole vault methods promoted and taught by Sky Jumpers "experts" Jan Johnson and Russ VerSteeg.
The first video segment below should automatically pause itself at 31 seconds after you click to play. There is little time wasted by "USATF CERTIFIED" Sky Jumpers coach and "POLE VAULT SAFETY EXPERT" Russ VerSteeg, as he clearly articulates, "I'm gonna teach ya how to pole vault today. We're gonna see how high we can get ya up in the air!"
Note that the wall clocks in the gymnastics facility confirm Lauren's pole vault lesson begins at approximately 1:45PM and ends at approximately 3:30PM when she is praised by "USATF CERTIFIED" coach and "SAFETY EXPERT," Russ VerSteeg, for her extraordinary proficiency as a "pole vaulter."
In the next video segment, you will hear Sky Jumpers pole vault "expert" Russ VerSteeg, who is a lawyer, clearly confirm his full knowledge that, "The principle danger in the pole vault is, uhm, falling from a height. About once a year, uhm, someone dies doing this."
MY QUESTION IS: Since Coach VerSteeg is fully aware that the "principle danger" is "height," WHY is he encouraging his naive potential victim to "see how high we can get ya up in the air!" within minutes, her first lesson, her first day???
PLEASE, CAREFULLY ANALYZE WHAT YOU SEE AND HEAR REITERATED IN THIS VIDEO CLIP. (First-time play will automatically start at 2:10 & stop at 2:26)
Since "FALLING FROM A HEIGHT" kills vaulters, let's immediately encourage GOING FOR "HEIGHT" WITHOUT FIRST MASTERING PROPER VAULTING TECHNIQUE! (First-time play will automatically start at 5:18 & stop at 5:29)
VERY IMPORTANT to note: In LESS than ONE HOUR, naive Lauren has been TAUGHT AND CONVINCED, by this USATF "expert" pole vault coach, to be completely consumed with focusing on "HEIGHT" OVER "SKILL." While Lauren sings the words, "HIGHER AND HIGHER," this "expert" Sky Jumpers pole vault coach and attorney, seemingly oblivious to the SIGNIFICANCE of "SAFETY" and vaulting correctly, responds with, "We're gonna keep goin' up as long as you're able to handle it!"
Here are some still-frames from the video that are significant to note:

The upper left image confirms (viewed from the back) how the vaulter is BULL-PUSHING the pole forward in front of him. The sequence of side views of the vaulter confirms that the flexible pole is NEVER properly "loaded" and "cocked." You can also see that "recoil" and "inversion" occur while the vaulter's body is dangerously way out over the runway and plant box. Then, as you can see for yourself, the vaulter has to lunge horizontally sideways as he attempts to get his body over the landing mats. Finally, you can see for yourself the consequences of poor trajectory and bungee cord application as the athlete becomes entangled with the bungee.
The bottom row of images should give you a CLUE as to the extreme DEGREE OF WEAR the landing mats skirting the runway and plant box have endured. WHY IS THAT? THE FOCUS SHOULD BE ON TEACHING VAULTERS TO ALWAYS DESCEND SAFELY DEEP IN THE MIDDLE OF LANDING AREA WHILE LEARNING TO AVOID THE DEADLY PLANT BOX AREA.
Do you believe the side mats would be WORN OUT like this if vaulters were being taught to pole vault properly?
Another glaring reality this video exposes is the self-induced sudden "URGENT NECESSITY" that "opened the door" to the creation of extraordinarily expensive HUGE FOAM PADS in the early 1990s due to vaulters routinely descending into the LETHAL AREAS of the plant box after being TAUGHT INTENTIONALLY to MISUSE flexible vaulting poles. These endless "urgent necessities" clearly result directly from the deadly "TRADITIONAL" pole vault methods you see being relentlessly propagated in this video by the same "rule-makers" who've obviously been working since 1992 to avoid our SAFER "AIR STRIKE" pole vault solutions.
POLE VAULT LIABILITY
WHO should be held liable for perpetrating "traditional" teachings that cause the catastrophic injuries and deaths of duped pole vault victims? Should responsibility for this purposeful negligence fall upon athletic equipment manufacturers, coaches, safety boards, NCAA, USA Track & Field, National Federation of State High School Associations?
Abject stupidity is being propagated for profit in 2018 as unabated criminal negligence is allowed to continue. This fact is evidenced in the following quote by Minnesota "millennial" pole vault coach, Shawn Michael Francis:
"You have to hit it with everything you've got and, if you really do break a pole, and it, and you break it a good way, you'll land in the pit anyways. So, don't be afraid to break the pole, that just means you're super awesome and you probably need the next stick anyways. So, in, in reality, I guess I look at a pole-break as a graduation, ah, to being even more awesome!" (Coach Shawn Francis-YouTube-F8J4ytXaVu0)
THIS IS DEADLY ABJECT STUPIDITY!
THIS IS A DEATHLIST OF ONLY 24 PREVENTABLE FATALITIES I WAS ABLE TO VERIFY. THERE ARE MANY, MANY MORE. ALL OF THESE YOUNG DEATHS ARE THE ABSOLUTE AVOIDABLE CONSEQUENCE OF "TRADITIONAL" POLE VAULT NEGLIGENCE!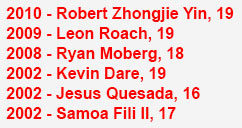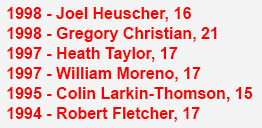 Please, allow your common sense to guide you when perusing the following pole vault facts.
The most obvious unfortunate fact is that "the fox has been charged with guarding the henhouse" in pole vault as it exists today. We can begin by looking into the vaulting pole manufacturing industry's own questionable production, safety testing, design and manufacturer specifications together with their incestuous relationships involving the "overseers" in charge of regulating SAFETY PROCEDURES, or overlooking safety procedures and proper pole vault TECHNIQUE.
In 1991, after purchasing a UCS Spirit flexible "competition" vaulting pole, I noticed SEVERAL major discrepancies between the REALITY of the flexible pole's practical application and the LUNACY of the instructions UCS Spirit provided with the pole. UCS Spirit's safety testing, design and manufacturing specifications simply do NOT mesh with their "user" instructions and REAL-WORLD PHYSICS.
My own firsthand experiences, spanning several decades dealing with athletic "Establishment" elite, have provided confirmation for me that "wolves have been charged with guarding the sheep" relating to pole vault. Since I fully realize I am confronting irresponsible children who've wormed themselves into positions of POWER, I'll state my RESPONSIBLE messages as simply as possible.
In the early 1940s, pole vaulter Cornelius A. Warmerdam (June 22, 1915 - November 13, 2001) achieved the highest bamboo pole vaults ever ascended by any athlete in history. He cleared the fifteen foot mark officially 43 times and is the only pole vaulter to clear the height of 15 feet using a bamboo stick.

Keep in mind that, during his time of setting pole vault world records, Cornelius Warmerdam never had the prerogative of landing on the gigantic soft foam padded mats of today as he succeeded repeatedly to land in shallow ground-level sand or sawdust, feet first, without suffering serious injury! Thus, how is it possible with today's huge padded landing mats and high-priced padding that covers just about everything in sight, vaulter's are being seriously injured and killed?
Let's approach a few of the athletic "Establishment" purposely ignored life-threatening physics principles from a perspective that any average six year old child can thoroughly and effortlessly comprehend.
First of all, in REALITY, athletes hold flexible vaulting poles using TWO HANDS SPREAD APART, WHICH COMPLETELY CONTRADICTS THE PLACING OF HOLD POSITIONS ONLY AT EACH END WHEN POLES ARE PRE-BENT INTO THEIR PERMANENT OPTIMUM "LINEAR ELASTIC BEHAVIOR" DIRECTION BY VAULTING POLE MANUFACTURERS.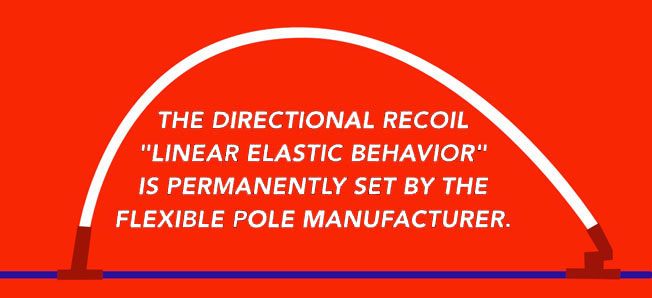 Thus, as dictated by REAL laws of physics, when "traditional" pole vaulters foolishly "PUSH" the LOWER HAND against flexing poles anywhere between the TESTED END PRESSURE POINTS, a lethal THIRD PRESSURE POINT is created.
Therefore, athletic equipment manufacturers, coaches, safety boards, NCAA, USA Track & Field, National Federation of State High School Associations DELIBERATELY APPLY lethal laws of physics to deadly flexible vaulting poles.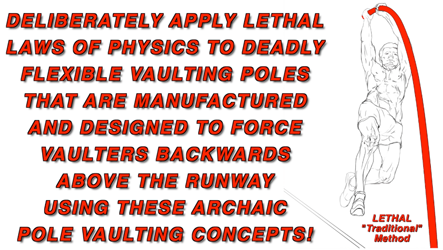 Please, use YOUR OWN COMMON SENSE as you watch the following videos. The first flexible pole-break recording you see below occurred in August 2014. This is Olympic champion pole vaulter, JENN SUHR. The "PRESS" (OR "PUSH") with the LOWER HAND not only forces vaulters backwards, it also places various lethal stresses on FLEXIBLE "COMPETITION" POLES of which the poles are NOT TESTED OR DESIGNED TO ENDURE by their manufacturers. You can prove this for yourself by watching the following videos, or any other recordings that exist of vaulters breaking flexible poles.
In the next video, according to the vaulter's own description, his bodyweight is 140 pounds while he is attempting to vault applying a flexible pole "rated" by the pole manufacturer at "165 pounds." The vaulter's bodyweight is 15% below the manufacturer's rating, yet, you will still see the vaulter force the pole to shatter by applying methods of foolish "traditional" lethal pole vault.

Watch the pole break below at 6 seconds into the following video. During the 6th second, focus on the bend in the pole just beyond the left foot as both feet rise above the horizontal plane of the vaulter's head. You will see the pole "bounce" then "shatter" during fractions of the 6th second of this slow motion movie recording.
The following video shows elite German pole vaulter Danny Ecker demonstrating the same "EXPERT" means of HOW TO BREAK FLEXIBLE VAULTING POLES APPLYING SENSELESS DEADLY "TRADITIONAL" SPEED+PUSH METHODS.
Lazaro Borges, at the 2012 London Olympic Games, applying the same lethal primitive "TRADITIONAL" pole vault concepts, also shattered his UCS Spirit vaulting pole. Click Lazaro Borges to view the video. The obvious "traditional" pole vault flaws (illustrated above) senselessly endanger poles and vaulters exponentially as athletes proceed to attempt higher vaults without proper training and perilous consequences of abusive pole bending increase with each athlete's ill-conceived primitive "traditional" pole vault experiences. Simultaneously, athletic "Establishment" elites who've taken control of this event continue padding their wallets at the expense of the ignorant naive flock of sheep blindly following their deadly irresponsible stewardship.

When attempting to pole vault, the ONLY PHYSICAL MEANS THAT ALLOWS A HUMAN BEING to bend flexible "competition" poles according to manufacturer specifications is AIR STRIKE HORIZONTAL FLEXED POLE ROTATION! This physics principle, decades ago, provided SOLUTIONS that thoroughly eradicate the most LETHAL and DEADLY SELF-INFLICTED PROBLEMS caused by primitive "TRADITIONAL" pole vault misconceptions, such as, "full-speed runs" and "pushing poles to vertical," still being foolishly propagated today by negligent athletic "Establishment" elites around the world shamelessly promoting their asinine DEADLY POLE VAULT whims.
CAN YOU NOW COMPREHEND HOW HORRIBLY CONTEMPTUOUS THE "TRADITIONAL" POLE VAULT "ESTABLISHMENT" IS? HURTING PEOPLE IN ORDER TO PROFIT FROM THEIR VICTIMIZATION IS WRONG, DOING IT ON PURPOSE IS CRIMINAL!
Applying HORIZONTAL FLEXED POLE ROTATION, the bottom tip of the pole and the vaulter's top handhold location are the only TWO PRESSURE POINTS leveraging a properly positioned fully "cocked" pole-bend identical to that specified and designed by the flexible pole manufacturer. As displayed in the 1992 image sequence below, allowing the bending pole to immediately rotate produces the opportunity for the vaulter to HANG from the lower arm while NOT "pressing" the pole.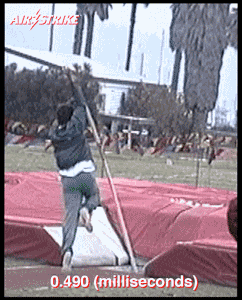 Proper application of HORIZONTAL FLEXED POLE ROTATION negates the lethal effects of primitive "traditional" pole vault problems by simply eliminating primitive ill-conceived "traditional" pole vault notions from existence. You can see the ULTIMATE AIR STRIKE method in the animation below.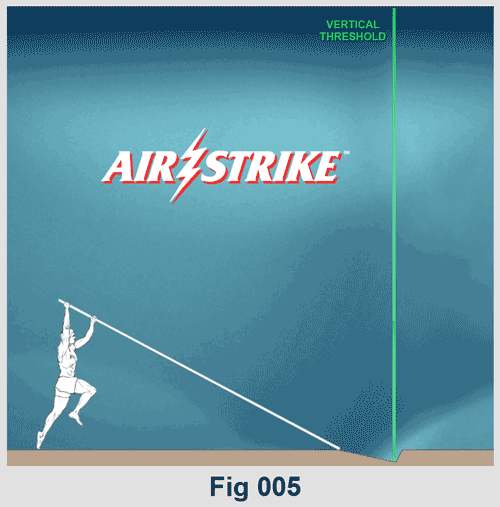 HOW & WHY THE AIR STRIKE POLE VAULT SYSTEM IS THE MOST REVOLUTIONARY PROCEDURAL DISCOVERY IN THE HISTORY OF SPORTS!
FLEXING POLES CORRECTLY TO VAULT SAFER, HIGHER & PROPERLY, DOES NOT REQUIRE "SPEED"!!!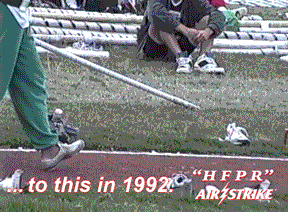 CLICK HERE FOR LIFE-SAVING AIR STRIKE WARNINGS, INTELLIGENT STEP-BY-STEP POLE VAULT LESSONS AND DRILLS!
CLICK HERE to see Chris Toledo's Story for yourself.
Please go back to the top of this page and carefully review its entirety to see if you have gained a new Air Strike pole vault perspective.