TURN YOUR VOLUME UP TO HEAR THE PAINFUL SOUND OF DEADLY FLAWED "TRADITIONAL" POLE VAULT...
NO NEED TO ADJUST YOUR CONTROLS when you see the first movie below go BLACK, the camera is dropped by the operator.
The women recorded in these first two examples of LETHAL "TRADITIONAL" POLE VAULT, obviously have vastly different "experience" levels. Although, you will see for yourself, regardless of the extent of their individual vaulting experience, both the "WANNABE" and the "CHAMPION" share the same painful consequences inevitably produced by NEGLIGENT "TRADITIONAL" POLE VAULT teachings. After watching the first video, please, watch the next to observe the avoidable "traditional" injurious result as OLYMPIC CHAMPION, JENNIFER SUHR, "BULL-PUSHES" HER BENT POLE FOWARD!
Below, OLYMPIC GOLD MEDALIST, JENN SUHR, is injured breaking her vaulting pole in 2014!
(Refresh the page to restart the top video at 0:07 seconds)
Flexible "competition" vaulting poles are FACTORY DESIGNED TO NEVER be bent as performed by Jenn Suhr in the video above. In spite of this fact, negligent vaulting pole manufacturers and irresponsible "coaches" continue encouraging vaulters to use Suhr's same lethal "traditional" pole vault methods. Below, is David Cox, star pole vault student of Coach Bob Fraley, who single-handedly boosted "UCS Spirit" sales when he formed the 1989 Pole Vault Summit at Fresno State University while square in the middle of spreading deadly "traditional" vaulting garbage that continues, unabated, still today.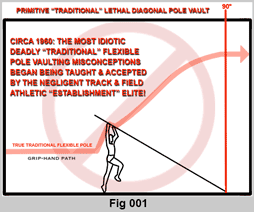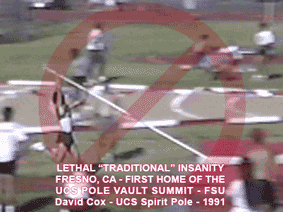 Lethal "traditional" vaulting methods taught by Fresno State University's Coach Bob Fraley, mirrored the misguided 1980s methods of Coach Don Hood at Abilene Christian University in Texas. This same abject stupidity continues being propagated for profit in 2017 as a new generation of criminally negligent coaches follow in the footsteps of the past. The following quote is by Minnesota "millennial" pole vault coach, Shawn Michael Francis:
"You have to hit it with everything you've got and, if you really do break a pole, and it, and you break it a good way, you'll land in the pit anyways. So, don't be afraid to break the pole, that just means you're super awesome and you probably need the next stick anyways. So, in, in reality, I guess I look at a pole-break as a graduation, ah, to being even more awesome!" (Coach Shawn Francis-YouTube-F8J4ytXaVu0)
YES, I DO VIEW THE ABOVE AS DEADLY ABJECT STUPIDITY. PLEASE, USE YOUR OWN COMMON SENSE.
THIS IS A DEATHLIST OF ONLY 24 PREVENTABLE FATALITIES I WAS ABLE TO VERIFY. THERE ARE MANY, MANY MORE. ALL OF THESE YOUNG DEATHS ARE THE ABSOLUTE AVOIDABLE CONSEQUENCE OF "TRADITIONAL" POLE VAULT NEGLIGENCE!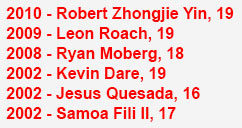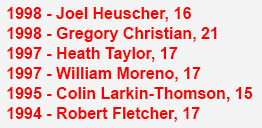 CAN YOU NOW COMPREHEND HOW HORRIBLY CONTEMPTUOUS THE "TRADITIONAL" POLE VAULT "ESTABLISHMENT" IS? HURTING PEOPLE IN ORDER TO PROFIT FROM THEIR VICTIMIZATION IS WRONG, DOING IT ON PURPOSE IS CRIMINAL!
POLE VAULT 2015: ELITE GIRLS EXPOSE FLAWS THAT DESTROY HIGHER POLE VAULT!
Note: CLICK on the video screen to start & stop during play when using non-mobile devices, or "refresh" the page.
Carefully studying the above video you will see that EVERY vaulter's left thigh hits the crossbar (EVERY vaulter in the video is right-handed). Watch closely and you will see that EVERY vaulter also ascends DIAGONALLY towards the crossbar. Sometimes their left thighs hit the crossbar during the vaulter's diagonal ascent. Other times, when the vaulter appears to clear the crossbar decisively, the left thigh hits the crossbar when the legs are heading downward.
In the above Mt. Sac 2015 video, it is NOT difficult to see the most visible TELL-TALE CLUE CONFIRMING the inefficiency of HORRIBLE DETRIMENTAL "TRADITIONAL" pole vault methods applied to FLEXIBLE poles. The most OBVIOUS physical FACT IS that the vaulters ARE NOT ABLE to clear crossbar settings that are WITHIN LESS THAN TWELVE INCHES above the LOCATION of their TOP GRIP even though they are using POWERFUL RECOILING FLEXIBLE vaulting poles. 

A multitude of "traditional" pole vault DESTROYERS are exposed in the video above that CAN be EASILY REPLACED with techniques that lay a path to pole vaulting higher and safer for these potentially great athletes whose SUCCESSFUL ACHIEVEMENTS are being hampered by obviously HORRIBLE "traditional" pole vault methods needlessly placing these female vaulters in hazardous positions dangerously above the plant box and runway.
The final vaulter shown in the video above HAS THE PHYSICAL ABILITY TO EASILY POLE VAULT 18', GUARANTEED! She simply needs to apply proper AIR STRIKE POLE VAULT methods that correctly "LOAD" & "COCK" flexible "competition" pole vault poles according to MANUFACTURER SPECIFICATIONS.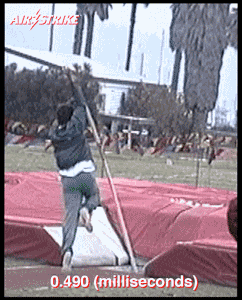 Executing AIR STRIKE pole vault methods allows vaulters to perform inversion entirely above the landing mats where the properly positioned "cocked" pole can proceed to PULL the inverted vaulter skyward following the VERTICAL TRAJECTORY that "FLEXIBLE" vaulting poles are ENGINEERED to produce as a result of "LINEAR ELASTIC BEHAVIOR."
Applying AIR STRIKE "HORIZONTAL FLEXED POLE ROTATION" principles and proper BODY-SPIN, ALL OF THESE FEMALE VAULTERS CAN POLE VAULT AT LEAST 24" HIGHER THAN THEY ARE IN THE MTSAC VIDEO DOCUMENTED ABOVE.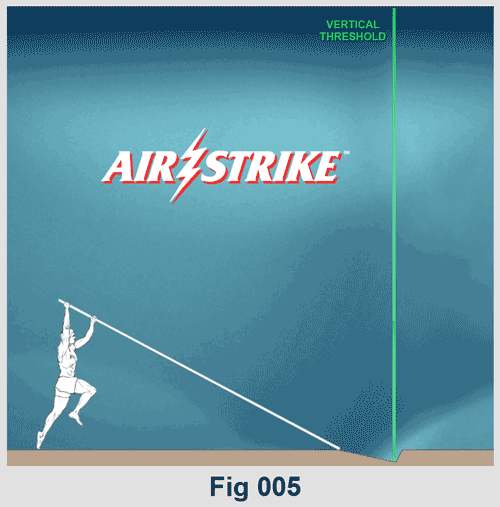 HOW & WHY THE AIR STRIKE POLE VAULT SYSTEM IS THE MOST REVOLUTIONARY PROCEDURAL DISCOVERY IN THE HISTORY OF SPORTS!
FLEXING POLES CORRECTLY TO VAULT SAFER, HIGHER & PROPERLY, DOES NOT REQUIRE "SPEED"!!!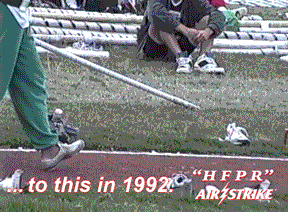 CLICK HERE FOR LIFE-SAVING AIR STRIKE WARNINGS, INTELLIGENT STEP-BY-STEP POLE VAULT LESSONS AND DRILLS!
CLICK HERE to see Chris Toledo's Story for yourself.
Please go back to the top of this page and carefully review its entirety to see if you have gained a new Air Strike pole vault perspective. NOTE: On NON-MOBILE devices you can simply click on the video screen to STOP PLAY, then, apply quick "double-clicks" to start and stop PLAY for detailed frame-by-frame viewing.