LeBron James, Michael "AIR" Jordan, Pythagoras, Dwight Howard, Acrhimedes & Shaquille O'Neal! WHAT DO THEY HAVE IN COMMON?

All six of these individuals are equally PERSISTENT, TIRELESS and METICULOUS at achieving extraordinary outcomes while enlightening the world with their individual contributions. Four of the celebrities named above, LeBron James, Michael Jordan, Dwight Howard and Shaquille O'Neal, are either former or present outstanding players in the National Basketball Association. Also supremely talented, Pythagoras and Archimedes were extraordinary mathematicians and scientists more than 2000 years ago but it's highly unlikely that either Pythagoras or Archimedes had the physical abilities to play in today's National Basketball Association.
As bizarre as it may seem to mention all six of these individuals as a group of valued contributors to the SAME unique scientific principles of revolutionary modern JUMPING PHYSICS, the facts that link this combination of diverse individuals together are timeless. Thus, to remedy the preventable flaws of deadly "traditional" pole vault, we apply the collective talents of these six individuals for the purpose of constructively identifying lethal deficiencies and rethinking the WORLD'S DEADLIEST SPORT. 
In 1992, at 6' 6" tall, Michael "AIR JORDAN" could JUMP to reach at least twelve feet above ground-level.
Did you know that the highest DOCUMENTED vertical reach for NBA players is 12' 5"?

Do you have any idea which player set that mark?

Would you be surprised to discover that 12' 5" mark was set by 7' 1" Shaquille O'Neal?
In his prime, "AIR JORDAN" had a higher vertical leap and could jump to touch nearly as high as the much taller Shaquille O'Neal who was officially recorded reaching 12' 5" vertically. Dwight Howard, at 6' 11" tall and weighing 270 pounds (plus or minus a few pounds), has recorded a vertical JUMP in which he touched 12' 6" above ground-level. You can see Dwight's big leaps in the video below, where you might notice that Dwight assists his JUMP-HEIGHT when his right hand repeatedly touches the padding on the bottom edge of the backboard. Using Air Strike methods, assisted by a rigid vaulting pole, Dwight Howard would surpass vaulting heights that are simply INCONCEIVABLE by "traditional" standards.
At the 1992 Summer Olympic Games in Barcelona, Spain, basketball's Michael "AIR" Jordan and "The Dream Team" performed their skills as "GENUINE EXPERTS" while, to the contrary, "FANTASY EXPERTS" at the same 1992 Summer Olympics simultaneously blatantly exposed the senseless lethal FLAWS of the WORLD'S DEADLIEST SPORT... POLE VAULT.
Prior to the 1992 Summer Olympic Games, I recognized that, with proper technique, dozens of basketball players possess the physical ability to easily break current world records in the obscure, but deadly, event of pole vault. My son and I had already IDENTIFIED and PROVED that lethal foolish pole vault "TEACHINGS" propagated by "Establishment" elites cause "traditional" pole vault catastrophic injuries and deaths.
Early JUNE of 1992, AIR STRIKE documented the new reality that "DOZENS OF BASKETBALL PLAYERS CAN BREAK THE CURRENT WORLD RECORD WITHIN MONTHS, USING THE AIR STRIKE POLE VAULT SYSTEM!" 
TWO MAJOR INCIDENTS followed, in 1992, which additionally substantiated our OPPOSITION to lethal "traditional" pole vault teachings. Later that summer, at the Olympic Games, the world's "greatest" pole vaulter failed to clear ANY height when performing his "specialty," the pole vault. Earlier, that same summer, the world's top decathlete failed to qualify for the 1992 Olympic Games when he also failed to clear ANY height in the pole vault. Both of these outstanding athletes FAILED miserably while applying primitive "traditional" pole vault methods that foolishly teach vaulters to depend entirely on the perpetration of dangerous top-speed approach runs which DESTROY any possibility of ever executing correct FORM.
It remains true to this day, 26 years later, that the AIR STRIKE POLE VAULT SYSTEM provides REAL SOLUTIONS, based on REAL LAWS OF PHYSICS, that are completely contrary to deadly "traditional" pole vault myths still being negligently and senselessly fostered by so-called pole vault "experts" around the world. The two animated images below illustrate an elementary KEY INGREDIENT within the physics of AIR STRIKE "HORIZONTAL FLEXED POLE ROTATION" priniples that allow ANY ATHLETE, who can perform a running basketball "dunk" into a 10 foot rim, the potential to pole vault higher than 20 FEET applying AIR STRIKE physics principles.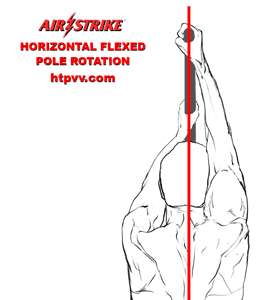 AIR STRIKE POLE VAULT is the only system in which JUMPING skills of athletes can be fully utilized. For example, let's use REAL laws of physics relevant to 6' 8" LeBron James. It can be argued that LeBron James qualifies as a "decent" athlete capable of leaping to reach 11' 0" above ground-level, even while wearing a three piece business suit and street shoes. Now, let's include Pythagoras in the mix and see how 2500 year-old Pythagorean mathematical formulas validate the potential of combining the jumping ability of LeBron James and the revolutionary AIR STRIKE POLE VAULT SYSTEM that incorporates JUMPING advantages by immediately rotating the bowing pole to the side of the vaulter's forward path.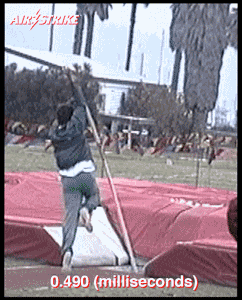 AIR STRIKE "HORIZONTAL FLEXED POLE ROTATION" OPENS THE DOOR FOR THE WORLD'S TRULY GREATEST ATHLETES TO POLE VAULT HIGHER, SAFER AND EASIER THAN EVER BEFORE POSSIBLE!!!
The preceding video verifies that LeBron James can easily reach "vertical extensions" exceeding 12 FEET (3.661M) above ground level applying totally "controlled" horizontal velocity. You can see for yourself that LeBron's real-life capabilities transcend the calculations listed on my AIR STRIKE POLE LENGTH CHART shown below! The possibilities are inconceivable as to what TRULY GREAT athletes can accomplish applying our far more INTELLIGENT and much SAFER AIR STRIKE POLE VAULT METHODS!
In the chart below, our @60% column (beneath the heading Bent EOE Distance From Ground to Top Tip Less 8" (.203M) Box Depth) aligns 11 FEET (3.353M) on the same row with 19' 6" (5.944M) POLE LENGTH on the left. This estimates that, applying proper HORIZONTAL FLEXED POLE ROTATION, a flexible vaulting pole 19' 6" (5.944M) long needs only to have its top tip located approximately 11 FEET (3.353M) above ground-level at "STRIKE" to produce the 15' 7" (4.750M) required forward distance to achieve END-OVER-END vertically "cocked" manufacturer specifications. That's only about the distance from the NBA free throw line to the backboard. The GLIDE PATH on our chart follows a HORIZONTAL LINE because the vaulter's bodyweight matches exactly that of the pole rating. The "rotating" pole's building resistance, as the vaulter glides forward, holds the vaulter in the air while the suspended vaulter's uninterrupted forward momentum properly "loads" and "cocks" the flexing pole with controlled energy balanced by the pole's built-in "linear elastic behavior" principles.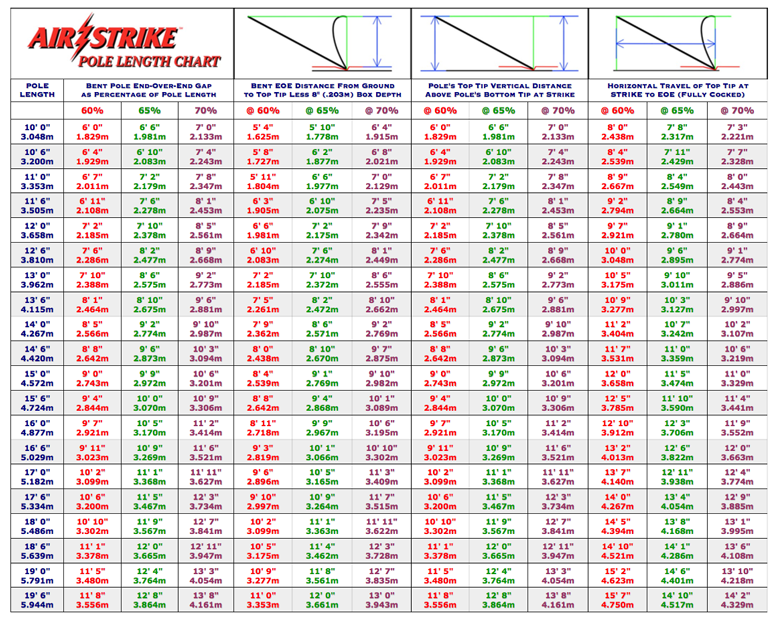 One very IMPORTANT thing to ALWAYS REMEMBER is this: HIGH JUMPING BASKETBALL PLAYERS DO NOT RUN FULL SPEED WHEN EXECUTING EXTRAORDINARY VERTICAL LEAPS! UPWARD "POP" RESULTS FROM "SETTLING" INTO THE JUMP!
AIR STRIKE HORIZONTAL FLEXED POLE ROTATION and LEVERAGE principles produce innovative methods in which LONGER vaulting poles can be utilized with consistent near-perfect VERTICAL TRAJECTORY time after time, which is contrary to predictably inconsistent "traditional" high-risk pole vault methods.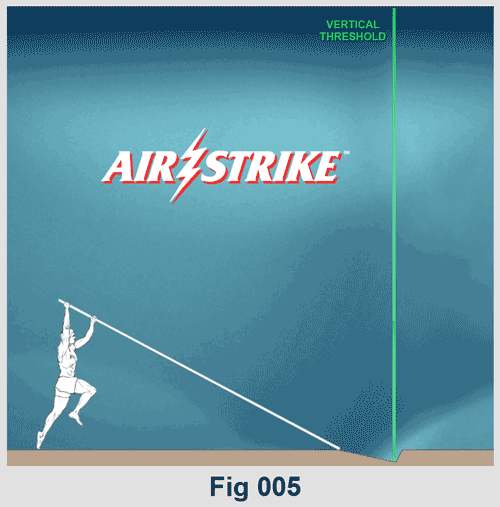 As our basketball player examples display, it is utter PHYSICAL REALITY that dozens of today's basketball players are easily capable of breaking current pole vault world records. It is a simple PHYSICAL FACT that vast numbers of these athletes can apply the AIR STRIKE POLE VAULT SYSTEM to correctly implement LONGER flexible poles that are NOT POSSIBLE to employ using primitive physically limiting "TRADITIONAL" lethal "SPEED"+"PUSH" deadly stupidity.

The video below demonstrates PRACTICED PRECISION that can only occur with REPEATABLE PRECISE articulation of REAL PHYSICS PRINCIPLES as is the case with AIR STRIKE POLE VAULT METHODS. Just imagine yourself attempting to perform the extraordinary movements in this video without ever before having been on a trampoline. This would compare to attempting pole vault implementing a FLEXIBLE "COMPETITION" POLE without safely perfecting proper pole vault execution FIRST using flexible "UNIFORM DIAMETER" training poles. This video displays a clearly PROPERLY trained ACROBAT, the same as EVERY pole vaulter SHOULD BE. Please, ENJOY PERFECTION!
FLEXING POLES CORRECTLY TO VAULT SAFER, HIGHER & PROPERLY, DOES NOT REQUIRE "SPEED"!!!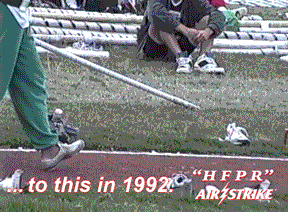 CLICK HERE FOR LIFE-SAVING AIR STRIKE WARNINGS, INTELLIGENT STEP-BY-STEP POLE VAULT LESSONS AND DRILLS!
CLICK HERE to see Chris Toledo's Story for yourself.