Pole Vault: What Causes "Traditional" Pole Vault Disasters?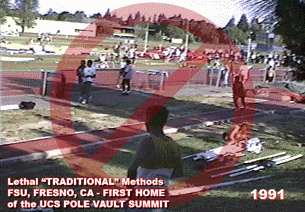 The UCS Spirit "competition" vaulting pole you see in these images was in use for the first time. We had very recently purchased the pole ourselves for several hundred dollars from the manufacturer and seller, UCS Spirit, Carson City, Nevada, following personal advice from two of the most acclaimed pole vault coaches in the United States at the time. The image sequence above displays a variety of terrifying perilous pole vault moments in the spring of 1991, recorded at Fresno State University, where, by no coincidence, the UCS SPIRIT POLE VAULT SUMMIT also happened to be conceived in the late 1980s. The images above verify the consequences of the "traditional" LETHAL "full speed approach run" method which is fundamental in most deadly "traditional" pole vault disasters.
WHY IS THAT? The reason is, when full running "SPEED" is applied based on the primitive "traditional" assumption that "you must accelerate into the box," the vaulter becomes a "hammer" attempting to "pound" the pole into a solid stationary wall by means of velocity. The "theory" is STUPID and the "reality" is DEADLY! Falling into the plant box is the primary cause of catastrophic injuries and deaths resulting from flawed "traditional" pole vault teachings.
Since the moments our images were frozen in time, an untold number of pole vault parents have unnecessarily experienced the same sickening emotional rush that naturally occurs when sudden overwhelming shock creates helpless fear and instantaneous visualizations of the worst possible ending. Please keep in mind that this experience was documented twenty-six years ago. Throughout the decades, since these images were recorded, countless other naive parents have helplessly witnessed similar frightening moments that did not end as lucky for them and, unfortunately, concluded in preventable catastrophic injury or death. All of these avoidable tragedies have taken place while athletic "Establishment" elites sit on their hands, looking the other way, as though nothing is wrong. If you don't believe this is true, just continue reading.

I am M. Thomas Toledo, 
FORMER naive parent and purchaser of the UCS Spirit "competition" vaulting pole
 in the images above. Beginning in 1991, all of 
my documented attempts to correspond
 with UCS Spirit, for the purpose of constructive dialogue regarding my firsthand personal
negative experiences relating to the safety of UCS Spirit's perilous products
, have been thoroughly ignored by UCS.
See my ignored 2014 letter to UCS.
January, 2014, twenty-three years after the above images of my son's fall into the plant box were recorded, anticipating an opportunity to meet with UCS Spirit representatives in person, I reserved hotel accommodations and completed an eight-hour drive from Las Vegas to Reno, Nevada, for my first-time visit to the "highly acclaimed" UCS Spirit Pole Vault Summit. As it turns out, my in-person inquiries were certainly not welcomed by UCS Spirit pole vault pole manufacturing or its affiliates.
Briefly put, the primary answers I gained from my trip to Reno, 2014, turned out to be as follows: For previously unpublicized reasons, UCS Spirit prefers to ignore the deadly part they play in their highly profitable lethal pole vault game of chance. It is crystal clear that athletic "Establishment" elites truly do NOT want to hear the questions I began asking them nearly 26 years ago. Ironically, during my visit to Reno, it was the purchase of a signed book from "Deadly" Dave Johnson, former USA world class decathlete and FEATURED "EXPERT" 2014 UCS SPIRIT POLE VAULT SUMMIT SPEAKER, in which the TRUE LETHAL IDIOCY of "traditional" pole vault is vividly revealed.
The following proclamation in "Deadly" Dave's book shamelessly exposes the DEADLIEST MISCONCEPTION that irresponsible "traditional" pole vault teachings continue to inflict upon their hapless victims: "Deadly" Dave states, "You begin by carrying the pole and running like a madman, which is exactly what you must be to even try this event." If your intentions are to injure yourself or someone else, simply follow "Deadly" Dave's and UCS Spirit's LETHAL "expert" advice as I had foolishly ALREADY DONE in 1991.
Speaking on my own behalf, naive and vulnerable in 1991, I was also an easy "mark" as a gullible parent trying to help my son, long ago set up and duped by the pole vault "Establishment" status quo "snake oil peddlers." My firsthand experience is that I HAVE tried Dave Johnson's and UCS Spirit's deadly "traditional" approach to pole vault. To sum it up, I've been there, done that, was just dumb-lucky to narrowly escape extraordinary disasters and WILL NEVER BE VICTIMIZED BY THEIR CRIMINAL NEGLIGENCE AGAIN!
"There but for the grace of God go I"
THIS IS A DEATHLIST OF ONLY 24 PREVENTABLE FATALITIES I WAS ABLE TO VERIFY. THERE ARE MANY, MANY MORE. ALL OF THESE YOUNG DEATHS ARE THE ABSOLUTE AVOIDABLE CONSEQUENCE OF "TRADITIONAL" POLE VAULT NEGLIGENCE!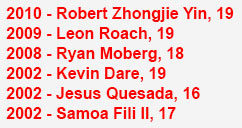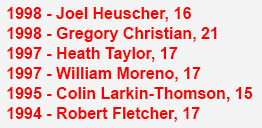 Pole vault tragedies documented throughout these past decades substantiate that my family was simply just fortunate enough to have avoided the vast array of preventable horrible pole vault catastrophes suffered by other vulnerable less fortunate souls over the years. My own jolting 1991 pole vault experience documented in the images above produced the following injury preventing and life-saving conclusions that the world needed to hear immediately 27 years ago:
Full speed approach runs are NEVER necessary for ANY properly executed pole vault!

Vaulting on flexible "COMPETITION" poles should NEVER be attempted prior to FIRST LEARNING proper vaulting techniques safely on flexible uniform diameter "MAXIMA" style poles (shown in the images below).
We purchased an ARRAY of UNIFORM SHAFT FLEXIBLE "MAXIMA" POLES following the plant box disaster that occurred during the very first use of our brand new UCS Spirit "competition" pole. Compared with flexible "competition" poles, the UNIFORM SHAFT construction of flexible "MAXIMA" style poles makes them the SAFEST, VIRTUALLY INDESTRUCTIBLE, PERFECTLY SUITED TRAINING POLES.

We applied at least six different gauges of flexible uniform diameter "MAXIMA" poles while achieving the initial AIR STRIKE concepts in 1991 & 1992. Because of their "tubular" uniform construction these poles are tremendously SUPERIOR to flexible "competition" poles when applied intelligently for learning how to pole vault safer and correctly. Flexible "MAXIMA" poles were ideal tools in the development of AIR STRIKE "HORIZONTAL FLEXED POLE ROTATION" principles.
It appears now, that the ONLY things that could destroy "MAXIMA" poles were their LONGEVITY and LOW PRICE. Nefarious decisions by the athletic "Establishment" consortium over the passing years clearly favor GREATER PROFIT REVENUES PRODUCED BY MORE EXPENSIVE, LESS VERSATILE, LESS DURABLE & FAR MORE DANGEROUS "COMPETITION" VAULTING POLES. I have disappointingly discovered, after my many years away from pole vault, that uniform shaft flexible "MAXIMA" style poles are nearly impossible to obtain. 
The athletic "Establishment" has chosen to make DELIBERATE DECISIONS that are EXTRAORDINARILY DESTRUCTIVE to the DEVELOPMENT OF PROPER POLE VAULT while simultaneously ENDANGERING vulnerable athletes.
What do you think should have been the priority of the athletic "Establishment" over the years: self-indulgence and increased profits or the prevention of needless deaths and catastrophic injuries to pole vaulters?
CAN YOU NOW COMPREHEND HOW HORRIBLY CONTEMPTUOUS THE "TRADITIONAL" POLE VAULT "ESTABLISHMENT" IS? HURTING PEOPLE IN ORDER TO PROFIT FROM THEIR VICTIMIZATION IS WRONG, DOING IT ON PURPOSE IS CRIMINAL!
AIR STRIKE Pole Vault: Anti-INTELLECTUAL or Anti-STUPID?
The following "Woman v. Workout" video is ABSOLUTELY PERFECT… at demonstrating nearly EVERYTHING you should NEVER do in the pole vault! At 2:11 of the video, you will hear this featured UCS Pole Vault Summit, USATF, Pole Vault Safety Certification Board acclaimed pole vault "expert" confidently inform his ignorant first-time student and video viewers that, "The principle danger in the pole vault is, uhm, falling from a height. About once a year, uhm, someone dies doing this."
In spite of that knowledge, at the very same time, during this very same first-time pole vault lesson, you will also hear the UCS Pole Vault Summit, USATF, Pole Vault Safety Certification Board acclaimed "expert" (www.skyjumpersct.org) mislead his naive new student and the video viewers into believing HEIGHT is the primary goal. This "expert" coach's documented statements that, "We're gonna see how high we can get yah up in the air!" and "We're gonna keep goin' up as long as you're able to handle it!" vividly expose a lethally flawed and thoroughly irresponsible "traditional" pole vault philosophy that, if only for the sake of protecting vaulters from physical harm, MUST BE PERMANENTLY TERMINATED.
Please, WATCH and LISTEN carefully to discover for yourself HOW & WHY "TRADITIONAL" POLE VAULTERS are subjected to RISK of catastrophic INJURIES and DEATH. As this video proves, SUPERVISORY NEGLECT has become an integral part of accepted INEPT "TRADITIONAL" pole vault "COACHING" which purposely ignores PROPER FUNDAMENTALS of CORRECT FORM as STEP #1 in permanently establishing maximization of the vaulter's safety and success.
IN BOTH INTERNATIONAL POLITICS & POLE VAULT, BLIND OBEDIENCE PRODUCES DEADLY CONSEQUENCES! Regarding POLE VAULT, please, verify further misleading lethal facts for yourself by perusing this 1989 article from the "Modern Athlete and Coach" authored by "renowned" misguided Australian pole vault "expert" Alan Launder. The article is only a few pages and should not take too much of your time - http://www.trackandfieldnews.com/technique/112-Alan_Launder.pdf. The skewed information in this article produces serious repercussions that are NOT FUNNY and it is NO JOKE! There is NOTHING COMICAL regarding the DEATHS and INJURIES that have been suffered resulting directly from the abundance of the lethal "traditional" irrational pole vault misconceptions spread by such negligent "experts" dominating this event.
What you will have discovered MOST IMPORTANTLY (beginning in the lower left column of the article's page 3993) is that, already decades ago, the 1989 rebuttal submitted by Nick Linthorne is "sounding the alarm" regarding the lethal "traditional" pole vault "fictional" teachings being perpetrated by irresponsible "experts" soiling pole vault. TWO SIGNIFICANT STATEMENTS from Nick Linthorne are extremely NOTABLE:
"The evidence is clear: Bubka does not pre-jump!"

"there is a danger in strict adherence to Petrov's inaccurate description, and of being misled by the term 'pre-jump.'"
The importance of this, for AIR STRIKE students, isn't whether or not anybody was doing a "pre-jump" but, for us, IT IS THE FACT THAT PRIMITIVE "TRADITIONAL" POLE VAULT METHODS MAKE IT IMPOSSIBLE TO HOLD PROPER VERTICAL EXTENSION POSTURE AFTER THE POLE TIP STRIKES THE BACK WALL OF THE PLANT BOX!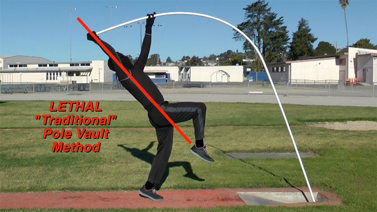 Stated differently, if the vaulter is applying the "traditional" pole vault method of attempting to "PUSH" the pole to vertical, the vaulter will be "clotheslined" backwards the moment the flexible pole's tip "strikes" the back wall of the plant box, which thoroughly nullifies any attempt to JUMP forward and upward. Being in the air the moment a "flexible" pole strikes the back of the box ACCOMPLISHES little or NOTHING when applying primitive "traditional" methods.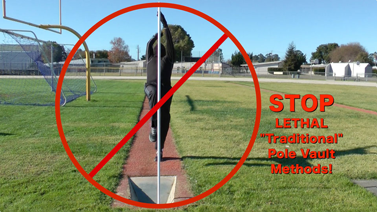 The athletic "Establishment" can call it a pre-jump, "free" takeoff, fantasy jump, twinkle jump or any other name they decide to pull out of their proverbial hats but, when the concept clearly NEVER does what "they" falsely claim it is doing, it is thus NOT serving ANY authentic practical function or purpose. Therefore, we are left with the logical conclusion that the so-called "PRE-JUMP" is ONLY REAL THEORETICALLY. Figure that one out!
PLEASE, PAUSE the next video at 0:15 seconds. You will see that the vaulter is in the air prior to the moment of "STRIKE." Even though this Australian pole vaulter is slightly off of the ground at "strike," his movement is completely negated by his "traditional" style. Next, click the "play" button and quickly "pause" again to see the vaulter's body position after the "strike." DOES THE VAULTER'S BODY POSITION APPEAR TO YOU TO BE AT ALL SIMILAR TO THE NEXT IMAGE UNDERNEATH THE VIDEO PLAYER??? It is IMPOSSIBLE for the vaulter to avoid being jerked backwards while he FORCES the pole FORWARD. You will also see that the vaulter's INVERSION OCCURS DANGEROUSLY entirely above the runway and lethal plant box where the pole's DEADLY WRONG RECOIL ACTION contradicts completely the pole manufacturer's own design specifications.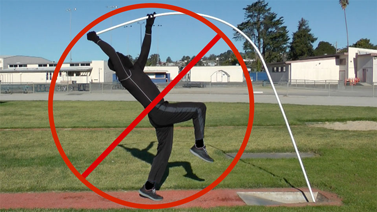 It is imperative to comprehend the dire importance of proper form execution when "striking" while in the air applying any type of pole. That is why the AIR STRIKE training system had been outlined as it was in 1992 incorporating "RIGID" pole vaulting disciplines that are unique to AIR STRIKE JUMP TECHNIQUES. Meticulous exceptional attention to detail and precise FORM execution are VITAL! You can easily see this precision of execution for yourself in the following sequence of still-frame video images. Note that the "GRIP" hand is directly above the head throughout the sequence of images.

The only significant adaptation necessary today is in the third AIR STRIKE "Practice Objective" listed earlier because of the inane athletic "Establishment" decision to purposely annihilate the availability of uniform diameter poles that are easy to bend at very slow approach running speeds. "Horizontal Flexed Pole Rotation" principles MUST be fully comprehended in order to properly "load" and "cock" FLEXIBLE "COMPETITION" poles to their factory specifications. This process begins with the PROPER EXECUTION OF VERTICAL EXTENSION prior to the bottom tip of ANY TYPE OF VAULTING POLE striking the back wall of a plant box.
To illustrate the IMPORTANCE of investing in attention to DETAIL, here is a much too common example: The video clip below shows the world's most emulated pole vaulter, Sergei Bubka, demonstrating what has been described by "experts" as "perfect" pole vault form. The PROBLEM for the "experts" is that what you are seeing here DOES NOT LIE for them but, instead, exposes ONLY the TRUTH! Regardless of how "great" his movements appear in full motion, Sergei Bubka's VERTICAL EXTENSION IS INCORRECT IN THIS VIDEO! You can clearly see this for yourself by carefully observing Mr. Bubka's "extension arm" positioning when you pause the video at :35 seconds. The still frame shows Sergei Bubka's "vertical extension" is NOT PERPENDICULAR (90 degrees) to the horizontal ground plane during the critical moments it SHOULD BE while performing his educational demonstration. NOTE at :10, :20, :57 & 1:05, how Bubka brings his left elbow inside, between the pole and his torso. This move is critical to properly inverting using "rigid" poles.
Casually overlooking the potentially lethal FLAW you see in the still-frame (paused at 0:35 seconds in the video above) becomes far more PERILOUS to vulnerable naive athletes who've NEVER had the privilege to access the extraordinary gymnastics training and facilities that have been afforded Sergei Bubka and other "elite" vaulters. These plainly visible facts reinforce Nick Linthorne's observations and warnings in his documented 1989 rebuttal to "expert" Alan Launder's article referenced earlier. BEWARE! ATTENTION TO DETAIL PREVENTS INJURIES AND SAVES LIVES! Be sure YOU KNOW what is theoretically CORRECT, then make sure YOU are doing YOUR BEST to PRACTICE PERFECTLY.
Please, watch the following video to see the AIR STRIKE method of properly executed "VERTICAL EXTENSION" as the "GRIP" hand moves DIRECTLY overhead throughout the moments the pole tip nears the ground until the instant the pole tip "STRIKES" the back wall of the plant box. The SOUND of this genuine 1950s metal pole tip rings out loudly for you to easily hear when it "STRIKES" the back of the plant box.
Executing proper "VERTICAL EXTENSION" is the rock-solid structural foundation that makes it possible to JUMP acrobatically using any pole vaulting implement. Study still images and videos of "VERTICAL EXTENSION" carefully to fully comprehend this integral fundamental of what you MUST DO to master any pole, whether it is plastic, fiberglass, composite metal, carbon, Swedish steel or bamboo! Properly executed AIR STRIKE "RIGID" POLE TRAINING hones the SKILLS that enable correct "HORIZONTAL FLEXED POLE ROTATION" disciplines which ultimately produce controlled, consistent, repeatable "AIR STRIKE" acrobatic "FLEXIBLE" pole vaulting SAFELY above the desired area of the landing mats.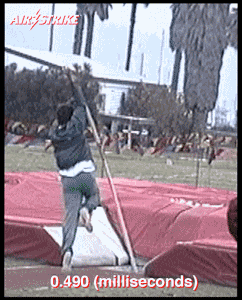 CLICK HERE for AIR STRIKE LESSONS. Keep in mind that there are THREE AIR STRIKE MODULES: #1 BASIC PROCESSES & RIGID POLE TRAINING; #2 HOW TO APPLY UNIFORM SHAFT FLEXIBLE TRAINING POLES; #3 HOW TO APPLY FLEXIBLE "COMPETITION" POLES AS THEY ARE DESIGNED. This incomplete draft covers only MODULES #1 & #2, thus far. MODULE #3 is NOT yet included. You will find that the "RUN" training sections encompass BOTH the "VERTICAL EXTENSION" and "STRIDE" structural elements of AIR STRIKE. "HORIZONTAL FLEXED POLE ROTATION" principles will be presented in a separate set of instructions. If our "walk-through" exercises seem unnecessary or insignificant to you, please keep in mind that professional athletes, such as sky divers, ice skaters, dancers, acrobats, etcetera, incorporate "walk-throughs" as a integral part of their particular quests to achieve perfection.
Your greatest challenge when performing these simple exercises is to comprehend the SIGNIFICANCE of achieving the ability to DO THEM CORRECTLY 100% of the time. CLICK HERE to see Chris Toledo's Story for yourself.
YOU NEED TO NOTE ADDITIONALLY: When applying AIR STRIKE "FLEXIBLE" POLE VAULT TRAINING, some processes that are "taboo" during "PROPERLY EXECUTED FULL VAULTS" must be applied during TRAINING stages. For example, the gradual ascending "grip" process applied specifically to "flexible" training poles begins very low which produces minimal pole-bend. Thus, AIR STRIKE "RIGID" pole vault methods are required during the moments the suspended vaulter's upper body leans into the unbent "training" pole. At this stage, the elbow of the "flexible arm" MUST be moved to a position between the side of the body and the vaulting pole using a different method from that applied on a fully flexed pole.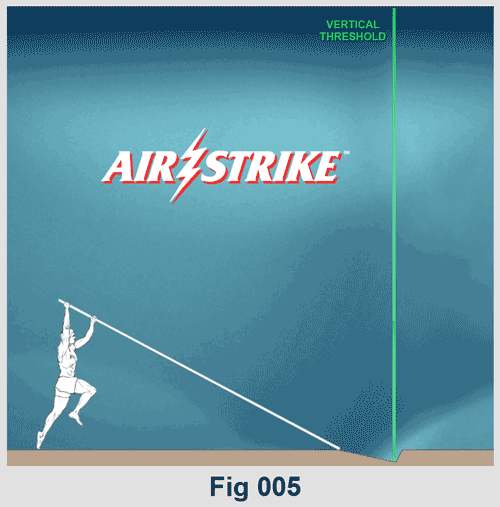 HOW & WHY THE AIR STRIKE POLE VAULT SYSTEM IS THE MOST REVOLUTIONARY PROCEDURAL DISCOVERY IN THE HISTORY OF SPORTS!
FLEXING POLES CORRECTLY TO VAULT SAFER, HIGHER & PROPERLY, DOES NOT REQUIRE "SPEED"!!!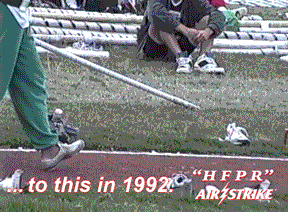 CLICK HERE FOR LIFE-SAVING AIR STRIKE WARNINGS, INTELLIGENT STEP-BY-STEP POLE VAULT LESSONS AND DRILLS!
CLICK HERE to see Chris Toledo's Story for yourself.
Please go back to the top of this page and carefully review its entirety to see if you have gained a new Air Strike pole vault perspective.