"DISCOVERY CHANNEL" VIDEO REVEALS AVOIDABLE DEADLY FLAWS OF LETHAL "TRADITIONAL" POLE VAULT!
PLEASE, OBJECTIVELY ANALYZE THESE PREVENTABLE HAZARDS!
The vaulter in this video brings to mind Mary Saxer, a "Li'l Darlin'" of "USC Spirit" vaulting pole sales promotions. I make that statement because the "TRADITIONAL" style vaulter in this video typically "bulls" her way through very badly executed vaults. Logically, I have to ask: How does she get away with it?
Mary Saxer comes to mind because, as I study this video, I recall Mary stating that she trained many years in gymnastics prior to participating in pole vault. Looking at the event's history since 1950, it is clearly evident that experienced gymnasts, including the great 1960s fiberglass pole pioneer, Brian Sternberg, have the ability to "veil" lethal "traditional" pole vault flaws.
Any "average" athlete attempting to emulate the dangerous pole vault methods performed in this video is guaranteed to encounter disaster and face the very highly probable consequence of serious catastrophic injury.
There is a proclamation noted in the upper right corner of the video during 0:12 to 0:15 seconds. The message is: "The energy of the pole vaulter's sprint is stored in the pole as it bends, and released as it straightens." This misguided underwriting perpetuates one of the deadliest misconceptions of "traditional" pole vault teachings by naively broadcasting the false narrative that "full-speed approach runs" are somehow vital to successful pole vault execution.
This ill-conceived "traditional" pole vault notion is completely ABSURD! You can see for yourself "real" laws of physics proven by the National Basketball Association's OLYMPIC GOLD MEDALIST Michael "Air" Jordan every time he "dunked" a basketball. Every running basketball "stuff" proves lethal pole vault "fast-run approach" misconceptions to be PATENTLY FALSE. Controlled MAXIMUM VERTICAL leaps are NEVER accomplished at full running speeds. It is NOT possible for any athlete to achieve a vertical jump-height "peak" while running full speed. Dictated by laws of physics, maximized pole vault efficiency is also correlated with the highest point of "vertical index" at "strike" combined with CONTROLLED "horizontal velocity."
FLEXING POLES CORRECTLY TO VAULT SAFER, HIGHER & PROPERLY, DOES NOT REQUIRE "SPEED"!!!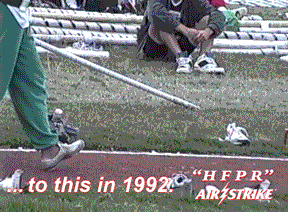 In TRUTH, preventable pole vault deaths and catastrophic injuries occur with regularity as a result of lethal "traditional" pole vault "need for speed" idiocy. This DISCOVERY CHANNEL demonstration featuring a female athlete performing "TRADITIONAL" pole vault vividly displays why running speed combined with "pushing" flexing poles forward is DEADLY.
THIS IS A DEATHLIST OF ONLY 24 PREVENTABLE FATALITIES I WAS ABLE TO VERIFY. THERE ARE MANY, MANY MORE. ALL OF THESE YOUNG DEATHS ARE THE ABSOLUTE AVOIDABLE CONSEQUENCE OF "TRADITIONAL" POLE VAULT NEGLIGENCE!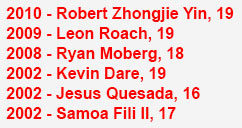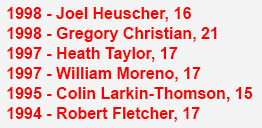 Keep in mind, noted on this page are just "some" of many obvious senseless consequences that result when lethal "traditional" flexible pole vault methods are employed. Next are FIVE replays of the same DISCOVERY CHANNEL video, please, set each at the suggested freeze-frame position, then, review each resulting image carefully in sequence.
Pause the video below after it begins playing. Change to "full screen" mode (bottom right button) and slide the player head to 0:15 seconds, then release. On that frame, you will see how the pole's shadow confirms that the vaulter's forceful forward "push" against the bending pole in front of her is actually causing the flexing pole to "loop" sideways towards the recording camera. One of the most elementary predictable consequences created when "traditional" vaulters "push" forward against bending poles is the inevitable killer "clotheslined" reaction. You can clearly see that this vaulter is abruptly jerked backwards as her feet fly forward towards the pole in front of her. "Escape" or click the lower right button to exit "full screen."
This video irrefutably displays blatantly depraved IDIOTIC DEADLY "TRADITIONAL" POLE VAULT METHODS being ruthlessly propagated by irresponsible pole vault "experts" around the world. Simply check out the lethal pole vault facts for yourself by doing your own Internet searches on the fallacious "expert" teachings of Jan Johnson, David Butler, Bill Falk, Alan Launder, Vitaly Petrov, Dr. Spencer Chang and YouTuber, Shawn "the Hoot" Francis. NONE of these deadly "TRADITIONAL" pole vault IMBECILES will debate with me. They know they can't debate with me as I represent truth, logic and common sense! These are but a few names populating a seemingly endless list of relentless "monkey see monkey doers" senselessly endangering athletes by propagating bogus "TRADITIONAL" deadly FLEXIBLE pole vault philosophies.
I encourage you to peruse www.polevaultpower.com where "traditional" pole vault "monkeys" sling their preposterous "BULL" crap to a degree that rivals the manure-spreading skills of a full-grown BULL HIPPOPOTAMUS. Polevaultpower.com is operated by Rebecca G. Peter, who is tightly interlaced with Dr. Barry P. Boden, Jan Johnson and the American Journal of Sports Medicine. The site lists one-sided posts denouncing a 6.4 million dollar lawsuit WIN by paralyzed "traditional" pole vault casualty Brandon White. Included are comments posted by the attorney who opposed White's case in court where Sky Jumpers principals Jan Johnson and Russ VerSteeg (also a lawyer) ganged up to testify AGAINST their permanently disabled victim, Brandon White.
The following quote is from Rebecca G. Peter. Her words confirm that the main objective of Peter and her malevolent allies is certainly NOT the elimination of the entirely preventable consequences that forever altered 18 year-old Brandon White's LIFE in 2002. Peter is crystal clear in communicating that she is PRIMARILY CONCERNED with the threat that the successful legal action of avoidably handicapped Brandon White will cause a rise in USATF "insurance rates":
"Does this lawsuit matter? You bet it does. This could potentially make USATF's insurance rates increase. It could make it much harder for entities not using USATF (like schools) to get liability insurance. We had better all pray that this can somehow be overturned on appeal." (Posted by "rainbowgirl28" aka Rebecca G. Peter, May 15, 2009)
Please, keep in mind that Rebecca G. Peter and her closest associates profit from their promotion of lethal "traditional" pole vault absurdity. These aloof miscreants DESIRE that status quo remain as is. I have all of the real history, all the real facts, all the data. The cowardly pack of reprobates who've seized control of Track & Field's pole vault together with devious equipment manufacturers amassing enormous obscene profits CAN'T debate with me. They are allergic to all of the historical and current information I possess. But the truth will get out there, in spite of these terrified "traditional" goofs who hide in fear, petrified of TRUTH, while cowering together to avoid any confrontation with proven lethal facts revealing their overwhelming deadly negligence.
In spite of ALL the exposed DEADLY FACTS, negligent vaulting pole manufacturers, irresponsible coaches, publicized physicians and other irresponsible mis-educated dolts persist in encouraging athletes to use lethal "traditional" pole vault methods. As a prime example, David Cox, star pole vault pupil of Coach Bob Fraley, is shown below, in 1991, mirroring the deadly pole-bend carelessly portrayed as correct in the "Barcelona" study analyzed on this site's "home" page. David's coach, Bob Fraley, single-handedly increased "UCS Spirit" profits when he formed the 1989 Pole Vault Summit at Fresno State University. Coach Fraley can be credited as one of the most prolific "spreaders" of deadly "traditional" vaulting "BULL" dung in the history of this polluted event.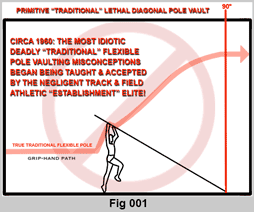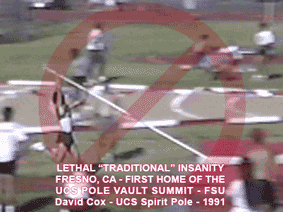 The dangerous "TRADITIONAL" advice exposed on this page is propagated by many "CERTIFIED" pole vault "COACHES" who actually condone and appear to believe their own proven obvious idiotic lethal stupidity as follows:
"You have to hit it with everything you've got and, if you really do break a pole, and it, and you break it a good way, you'll land in the pit anyways. So, don't be afraid to break the pole, that just means you're super awesome and you probably need the next stick anyways. So, in, in reality, I guess I look at a pole-break as a graduation, ah, to being even more awesome!" (Coach Shawn Francis-YouTube-F8J4ytXaVu0)
As you can see, by watching the preceding video and the DISCOVERY CHANNEL video on this page, the INTERNET clearly exposes a vast spectrum of lethal POLE VAULT BAFFOONERY. These are undeniable examples as to why deadly "TRADITIONAL" pole vault philosophies MUST be TERMINATED!
It is clearly evident that "Traditional" pole vaulters are INEVITABLY YANKED OFF THEIR FEET as a result of foolishly completely depending on the application of running speed momentum. Unfortunately, too many "highly mis-educated dolts" remain convinced that the powerful flexible vaulting pole can be forcibly raised to vertical by pushing forward against it. Natural laws of physics prove they are obviously dead wrong as every "traditional" pole vaulter is jolted violently backwards by the opposing fierce reaction of any vaulting pole the moment it abruptly stops moving forward after slamming against the back wall of a stationary plant box.
Positioning the play head at 0:15.5 seconds or looking at the "splash" image of the video (pre-play image) you see below, clearly illustrates the vaulter "BULL-PUSHING" the bent pole forward. This athlete's acrobatic talents simply mask her DEADLY AWFUL METHODS THAT CONTINUE CHOKING LIFE FROM THIS EVENT.
The still-frame at 0:15.5 seconds also fully illustrates another foolish and deadly flaw that occurs when the top hand of the vaulter is positioned too far from the top end of the pole. The low grip forces a resulting deformed pole bend in which the upper (lessor reinforced) segment of the flexing pole is not properly utilized.
In turn, this extraordinary ignorance of simple common sense leverage laws of physics published by Archimedes more than 2000 years ago, causes the lower (more heavily reinforced) segment of the pole to over-bend in relation to the upper portion of the pole, which is completely contrary to the pole manufacturer's specifications. This destructive "traditional" method then inevitably contributes to the creation of excessive stress zones that disproportionately impact the entire improperly bent flexible vaulting pole.
Since the bent pole's reactions are confined to laws of physics dictated by the manufacturer's built-in permanent linear rotation axis, the "twisting buckling mode" is another factor producing further dangerous consequences that occur during the blink of an eye. The vaulter's misguided "pushing" action additionally creates excessive friction on the pole's bottom tip as the pole's "plug" becomes "jammed" against the back left edge of the plant box in this case.
The inhibited movement of the plug causes the upper portion of the pole to "twist" excessively ahead of the bent pole's lower portion as the vaulter presses forward. In other words, while the pole's plug is stuck in the back left corner of the plant box, prevented from spinning as it must, the vaulter's continued momentum as she tightly grips the flexing pole causes the upper portion of the bent cylindrically designed apparatus to "spiral" excessively. Keep in mind that flexible "competition" vaulting pole manufacturers design flexible "competition" poles based on "linear" physics principles. Therefore, BEWARE that as the degree of "twisting" motion increases, so do the risks to the vaulter. The curbed energy in the flexing pole is instantaneously released during the fraction of a second at which the twisting force overcomes the friction that prevented the plug from spinning in the first place.
Pausing the video at 0:17 below illustrates that the pole's "plug" has moved from the left front corner of the plant box and is now positioned in the back right corner. To prove for yourself what has just occurred, you can view the flexing pole's entire reaction 30 seconds into the video. View the video using "full screen" setting and watch the front view of the flexing pole very carefully as the vaulter's right foot reaches the top of the pole's label. You will see the bowing pole suddenly jerk and quiver to your right as the label snaps downward. During the instant you see the label drop downward the pole tip is sliding violently from the vaulter's left to right in the plant box. The affect of the shockwave is clearly evident rising upward through the pole as the vaulter's hands and arms are visibly jolted by the misplaced jarring energy you see bolting out the top of the wobbling pole. This is the moment at which flexible "competition" poles will often "shatter."
As also shown 0:17 seconds into the video, inefficient and improper loading of flexible poles results in premature flexed pole recoil occurring dangerously above the runway and plant box. Improper execution is why the inversion of all "traditional" pole vaulters takes place entirely above the runway and plant box as you can see for yourself in this video.
An additional consequence of "traditional" pole vault methods is that flexible vaulting poles never reach their built-in predesigned "cocked" position according to manufacturer specifications. As these video images illustrate, the pole is already recoiling while the vaulter is above the plant box and the pole is never "cocked" end-over-end vertically. The vaulter is SWUNG DIAGONALLY by the recoiling pole!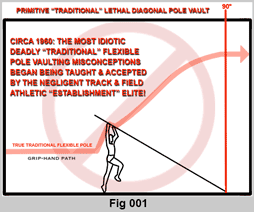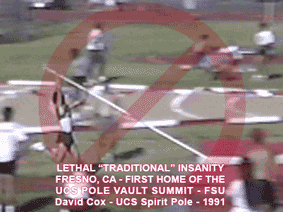 THE RISK PROBABILITIES OF RESULTING CATASTROPHIC INJURY & DEATH ARE GREATLY INCREASED FOR ANY ATHLETE APPLYING ILL-CONCEIVED LETHAL "TRADITIONAL" POLE VAULT METHODS!
Flawed "traditional" pole vault methods also make it impossible for a recoiling pole to ever achieve anything near the flexible pole manufacturer's designated "linear elastic behavior" specifications. AIR STRIKE methods demand that the directional straightening of the pole must be slightly past the straight pole's perpendicular alignment to the horizontal ground plane where upon the bottom tip of the pole is planted. The "VERTICAL THRESHOLD" is what we named this perpendicular line position. Pausing the video below at 0:20 seconds, you will see that the pole has straightened (pointing towards the runway) while the vaulter's feet are still rising towards the crossbar.
During attempted inversions, "traditional" pole vaulters are not capable of accomplishing any flexible vaulting pole manufacturer's specified directional perpendicular recoiled pole position. This is because "traditional" pole vaulters never maneuver flexing vaulting poles into the manufacturer's designated vertically "cocked" proper end-over-end position. At 0:20 seconds it is clear for anyone to see that this vaulter's body remains perilously suspended above the plant box and runway after the pole's "linear elastic behavior" conclusion (when the pole returns to its original straight form).
Pause the video below at 0:42 seconds where you will see that the straight pole is headed away from the landing mats as the vaulter thrusts her feet diagonally into her horizontal layout directly above the crossbar as her right shoulder is barely a few inches higher than her "grip" hand. Applying these lethal "traditional" pole vault methods results in a travesty that is NOT even near a VERTICALLY INVERTED launch.
You will also notice at 0:42 and 0:25 seconds that the vaulter's outstretched body is extending perpendicularly away from the SIDE of the straightened pole at an angle that is almost HORIZONTAL (PARALLEL) to the horizontal ground plane, NOT VERTICAL. The vaulter's diagonally outstretched body-angle DECREASES the HEIGHT (apex) potential of the vaulter by a minimum of at least 24 inches LESS than a proper "Air Strike Controlled Vertical Launch" that's always executed safely and consistently entirely above the landing mats. It is also very important for you to note here that the vaulter's apex is LESS than 12 inches above her "grip" hand position which substantiates that DEFICIENT vertical body trajectory is ultimately the inevitable inferior result of "traditional" flexible pole vault concepts.
Pole Vault: See how JENN SUHR uses the "BULL-PUSH" method to BREAK her pole…
Watch as Willem Coertzen of South Africa BREAKS a pole using the "BULL-PUSH" method. After watching, please set the video at 0:30 seconds and proceed to the next video.
Now, play the below repeat of the above video that should automatically begin at 28 seconds and stop at 38 seconds. Observe how Willem Coertzen "PUSHES" the deformed stressed pole forward and to his right before it BREAKS!
You will discover the same predictable "BULL-PUSH" result in the next video as the pole BREAKS! Go "Full" screen and note the mixed reactions of spectators as broken pole fragments fly high into the sky.
PUSHING POLES FORWARD PRODUCES EASILY PREVENTABLE DISASTERS!
CAN YOU NOW COMPREHEND HOW HORRIBLY CONTEMPTUOUS THE "TRADITIONAL" POLE VAULT "ESTABLISHMENT" IS? HURTING PEOPLE IN ORDER TO PROFIT FROM THEIR VICTIMIZATION IS WRONG, DOING IT ON PURPOSE IS CRIMINAL!
AIR STRIKE "HORIZONTAL FLEXED POLE ROTATION" ERADICATES LETHAL "TRADITIONAL" CALAMITIES!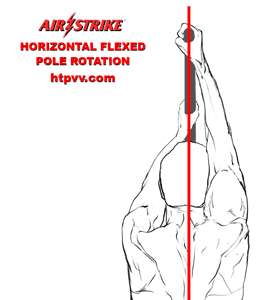 AIR STRIKE "HORIZONTAL FLEXED POLE ROTATION" produces easier, safer, higher pole vault, which forever ELIMINATES INSANE "TRADITIONAL" MYTHS that mindlessly promote "SPEED" and the lethal "BULL-PUSH" against overwhelmingly powerful flexible poles!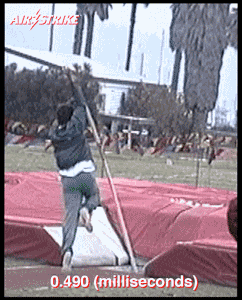 Applying the much safer and more EFFICIENT Air Strike System the vaulter's feet project directly upward to lead the vaulter's inverted body skyward, perpendicularly heading higher away from the horizontal ground plane while the vaulter's inversion process is executed entirely above the landing mats!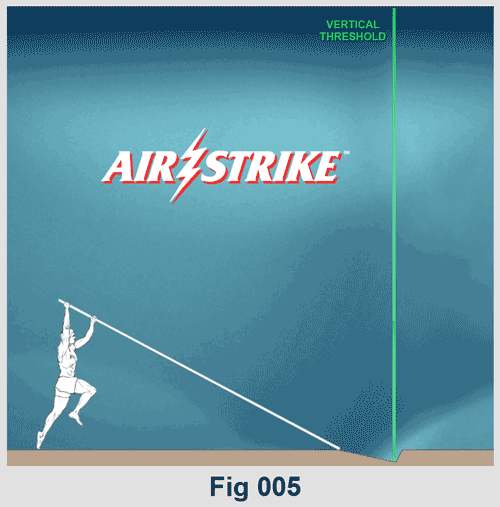 "TRADITIONAL" pole vault "THEORY" is STUPID and the consequential "REALITY" is DEADLY! "ESTABLISHED" POLE VAULT METHODS CAST A VAST LETHAL SPECTRUM OF NEEDLESS CATASTROPHIC INJURIES AND DEATHS.


SCOTT HUFFMAN DISPLAYS THE MOST DANGEROUS POLE VAULT METHODS ON THE PLANET WHILE ALSO UNINTENTIONALLY DEMONSTRATING AIR STRIKE'S BODY-SPIN LANDING PRINCIPLES IN 1996!
Note: You can CLICK on the video screen to start & stop during play when using non-mobile devices.
Please, PAUSE the VIDEO above at 0:38 seconds. The vaulter can be seen forcefully "pushing" the bending pole forward with his left hand while also causing the middle of the pole to bend to his right. This ill-conceived "traditional" pole vault teaching causes Newton's third law of motion to become a LETHAL ingredient in deadly"traditional" flexible pole vault formulas. Air Strike's "first law of flexible pole vault" is: "The degree of ENERGY any athlete invests to physically OPPOSE a flexible vaulting pole, equally INCREASES the athlete's probability of suffering INJURY or DEATH."
Click to PLAY again, then quickly PAUSE during the 38th second of the video. During these fractions of a second that the vaulter is jolted off the ground the bending pole reacts by violently resisting the vaulter's push as the pole quickly springs back forcefully in the opposite direction to the vaulter's left. You can also see, relative to the ground plane, that the vaulter's feet begin prematurely rising above the runway when the bent pole has hardly begun to rotate (pivot) as it is only 2 or 3 degrees from its original position where, as a straight pole, it was aligned perpendicularly to the front edge-line of the landing mats at the moment its tip struck the back wall of the plant box.
In defiance of ANY sensibility, the vaulter is doing this purposely, as athletic "Establishment" elites encourage this LETHAL NONSENSE to be spread throughout the world. Wastefully exhausting his own energy, the vaulter is "fighting" the flexing pole while most of the pole's forces are expended pushing the vaulter backwards rather than upwards. 
Playing and pausing the video, you will notice that the vaulter is a very wide distance from being safely over the landing mats while his body is becoming fully inverted entirely above the plant box and runway of which both are obviously visible below the suspended vaulter.
The flexed pole begins recoiling prematurely. The bending pole is NEVER properly "cocked" and the vaulter rises over 18 feet above the ground without ever penetrating safely over the landing mats. (ALL "traditional" vaulters do the SAME thing.) The vaulter must now begin laying himself out diagonally towards the landing area attempting to travel horizontally beyond the lethal position where he is perilously above the plant box.
The ill-timed inversion of the vaulter prematurely triggers the recoil portion of the "linear elastic behavior" process which causes the pivoting bent pole to straighten dangerously much too early while the vaulter is still suspended haplessly above the plant box.
Note the perilous position of the crossbar in the ending frames of the video. Instead of being positioned safely over the landing mats, the crossbar is set precariously virtually above the plant box seen directly beneath the vaulter.
Scott Huffman's straddling of the crossbar is a make-or-break instinctive effort to stretch himself into moving his body further horizontally, in desperation to clear the height of the bar. In his effort, Scott is actually demonstrating the tremendous advantage that results when the vaulter flows with the natural body-spin rather than bucking it. (The next video will start at the time of the spin the first time it is played.)
Right-handed vaulters, viewed from above, naturally spin clockwise during inverted ascent. When the feet descend, leading the torso downward, the spin naturally transitions to counterclockwise direction. Cornelius Warmerdam, in the 1940s, took thorough advantage of this physics principle.
The lethally flawed methods documented above place today's vaulters in even greater danger than athletes of the 1940s when Cornelius Warmerdam was documented consistently clearing heights between 15 and 16 feet dozens of times. "Dutch" Warmerdam, repeatedly and successfully descended from these tremendous heights as he fell to ground-level without any landing mats using rigid BAMBOO vaulting sticks.
As you can see for yourself in the image below right, Cornelius Warmerdam is standing next to the ground-level landing area holding a formerly discarded bamboo pole that he retrieved from the trash and applied to set his world records.

POLE VAULTERS CORNELIUS WARMERDAM AND SHAWN BARBER "AIR STRIKE ROLL" NEARLY 70 YEARS APART!
Refresh page for "replay."
Immediately above, nearly TWO DECADES after Scott Huffman in the 1996 Olympic Games and SEVEN DECADES after Cornelius Warmerdam, you are witnessing Shawn Barber letting his "survival instincts" dictate the implementation of Air Strike's natural physics "roll" principles versus Barber's "traditional" methods. Naive "traditional" pole vault lemmings "can't see the forest for the trees" while foolishly refusing to accept what their human intelligence is instinctively trying to tell them.
POLE VAULTERS CORNELIUS WARMERDAM AND SCOTT HUFFMAN 50 YEARS APART!
Refresh page for "replay."
Watch Cornelius Warmerdam (in the left video) as his controlled body spins counterclockwise viewing his descent from above. In the right-side video you can see the same descending counterclockwise body-spin principle being applied by Scott Huffman to rescue his vault at the 1996 Olympic Games more than 50 years after Cornelius Warmerdam. This is a too-long overlooked and ignored physics principle that Air Strike capitalizes upon to achieve safer and higher flexible pole vault results. As is the case with every "traditional" flexible pole vaulter, Scott Huffman's inverted upward body trajectory is ACTUALLY heading in a DIAGONAL direction. His inverted body trajectory is NOT VERTICAL. Not even close to vertical! BUT, what makes Scott's method unique amongst "traditional" pole vaulters is that he instinctively capitalized on the physical forces of his body-spin throughout his apex and his descent all the way down to the landing mats. Allowing his body to continue spinning in the direction dictated by natural laws of physics is completely contrary to misguided "traditional" flexible pole vaulting concepts perpetuated by the athletic "Establishment."
Lethal "traditional" pole vault teachings applied to flexible vaulting poles are the DEADLY consequences of the abject stupidity and vile arrogance clouding the perspectives of otherwise intelligent people. Anyone applying simple common sense is capable of identifying dangerous "traditional" flexible pole vault misconceptions. Ask yourself this glaring question: "How is it possible that, during his 43 official vaults exceeding heights of 15 feet, Cornelius Warmerdam elevated his body to achieve apexes that stretched to distances ranging from 32 inches to 36 inches above his upper "grip" hand position?" Relatively, today's vaulters using "traditional" pole vault methods on powerful flexing poles DO NOT even get near Warmerdam's percentages. Why is that? Along with those thoughts, you should also take note that Cornelius Warmerdam performed a vast number of his 15 foot vaults falling from the top of a rigid bamboo stick as he proceeded to descend feet first into ground-level sawdust.
Revolutionary Air Strike methods allow the flexible bent pole to rotate above the landing mats into the pole's natural most efficient "linear elastic behavior" position from which the recoiling pole PULLS the inverted vaulter straight up vertically. Air Strike's "horizontal flexed pole rotation" principles allow ANY inverted Air Strike pole vaulter to repeatedly capitalize on vertical "body-spin" laws of physics to vault instantaneously higher than inept "traditional" flexible pole vault methods. Unlike lethal "traditional" pole vault concepts, Air Strike pole vault provides consistency and safety each and every vault by utilizing INVERTED BODY-SPIN physics principles that optimize the vertically skyward-projected vaulter's invested energy to consistently execute proper body trajectory.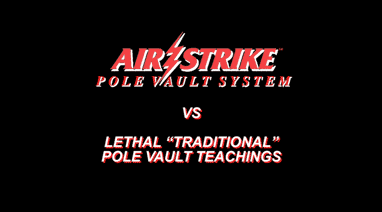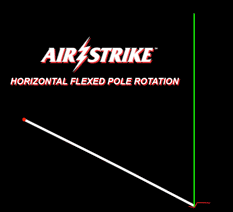 Air Strike factual, NOT fantasy, physics principles avail the opportunity for truly outstanding athletes to fully apply unique physical athletic advantages they possess, such as superior dynamic "strength to body weight ratios" that can be constantly expanded and improved upon. Continued persistent hard work and dedication are now rewarded with boundless dreams of unlimited possibilities conceived by applying intelligent Air Strike pole vault methods incorporating positive real physics concepts that HELP, NOT HINDER, all great athletes in realizing their pole vaulting POTENTIAL.
FLEXING POLES CORRECTLY TO VAULT SAFER, HIGHER & PROPERLY, DOES NOT REQUIRE "SPEED"!!!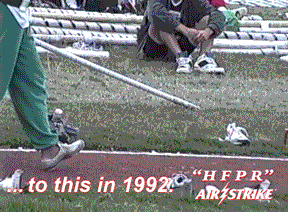 CLICK HERE FOR LIFE-SAVING AIR STRIKE WARNINGS, INTELLIGENT STEP-BY-STEP POLE VAULT LESSONS AND DRILLS!
CLICK HERE to see Chris Toledo's Story for yourself.
Please go back to the top of this page and carefully review the "Discovery Channel" video in its entirety to see if you have grasped why "traditional" pole vault methods are DEADLY and must be terminated. NOTE: On NON-MOBILE devices you can simply click on the video screen to STOP PLAY, then, apply quick "double-clicks" to start and stop PLAY for detailed frame-by-frame viewing.